Here is a selection of emails we have received from satisfied customers:
---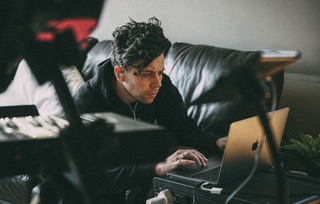 "I use Kenton on everything I do live. They are my go to for all things MIDI. Tonnes of flexibility and so reliable. Perfect on any stage."
Matthew Carroll, Keyboards for Dua Lipa
---
We still get enquiries about the famous performance glove Kenton developed for stage use by Marillion in 1989.
It may be of interest that Kenton are still involved with special one-off projects and welcome enquiries, whatever your MIDI needs.
---
The Simian Mobile Disco in a full performance. You can see the Kenton Control Freak being used as a central part of their performance by clicking here. Enjoy!
---
"The Pro Solo has made my life much easier. I have invested a small fortune in vintage keyboards and I use a Pro Solo on just about every one of them. The Pro Solo lets me do things on some of my synths that otherwise would be very difficult to achieve, like pitchbend on my Concertmate MG-1 for example; before the Pro Solo this would have been impossible. Now all my synths can be controlled by my sequencer, which means I don't have to print the sound to Pro Tools. Out of the synth to my console, to my DAT machine! isn't life just great!!! "
Harry 'Choo Choo' Romero, DJ/Producer
---
"Having been a long-time user of Kenton products, my particular favourites are the Control Freaks. I've got 2 units, one with faders and one with knobs. When using these in conjunction with a midi sequencer and a number of 'virtual' synths as I do, it gives me the best of both worlds.
The fader version I use for controlling various midi track information i.e. levels etc., and the knobs are ideal for quick editing of, in particular, old analogue synth-modelling. I'm currently using a lot of Creamware soft synths
– the Minimax which is a very true model of the original Minimoog in conjunction with the Control Freak is really as good as it gets – instant access to the front panel of a Minimoog, with total recall.
Anyone who is a serious programmer of virtual synths really needs to have the Control Freak at his fingertips."
Geoff Downes of Asia – February, 2003
---
"The Kenton Thru-25 is the most important piece of gear in our setup, as it keeps us synchronized like a charm.
Built like a tank and precise as a Swiss watch, it's an absolute no brainer and allows you to focus on creativity and fun."
Laserwolf also have a video discussing (in Swiss German) how they use the Thru-25 as part of their live show.
---
"I'm really pleased with my ARP2600… the MIDI's given it new life."
Spooky (Charlie May)
---
"I bought a Kenton kit & I loved it so much, I had my kidneys MIDI-ed! "
Ashley Slater, Freakpower
---
"I've got a Pro-2… it's fantastic. Together with your Mk1 Odyssey socket retro, it really does the biz"
Adrian Utley, Producer, Portishead
---
"One small step for Kenton… one giant leap for George!"
George Holt of Erasure
---
"Kenton products are fantastic!"
David Beevers of The Human League
---
"We are a mixing studio based in London (UK) and big fans of our Midi thru box! We have the Thru-5 and we use for hooking up our small setup of 2 keyboards (25 + 61 keys) and we also have this old wasp deluxe synth so we use our little thru box to easily have them all together. " – Daniel, MixButton
---
"Hoorah for Kenton!"
Kieran Baldwin, production engineer, East 17
---
"We've got about a dozen units that wouldn't be working without Kenton, so we think you're great!"
---
"I love my 303 even more now that Kenton have fitted sockets to it!"
Richard H. Kirk (Cabaret Voltaire)
---
"I had a dream… & Kenton made it come true!"
Charlie Hall (ex Drum Club)
---
"Kenton really are the best, they've saved my life "
Electrasy
---
"The Kenton Pro-4 is practically flawless… anyone who is serious about their use of vintage analogue gear and doesn't
own a Kenton interface, really ought to be asking themselves Why?"
Paul Ward
---
"My many old analogue synths are bleeping away merrily once more. Thanks to Kenton."
---
"Thank God for Kenton Electronics"
Icelandic band Gus Gus
---
"Why doesn't everyone use Kenton?
I have a Pro-4, Pro-KADI and MIDI Kits for my TR-808, PS-3200, PPG Wave and CS-80″
Sunao Inami, Cave Studio, Japan
---
"The build quality of your equipment makes for some of the most reliable stuff in my studio so please accept a big thank you from me for making such quality stuff. I rely on it heavily. I am a big fan of the simplicity and straight forward operation of all your products that I have had the good fortune to own." – John (USA)
---
"Many thanks for your help on this. I have been using the [Pro Solo mk3] converter and [EMS] cable this last week in the studio and it has really changed what I can do with the Synthi. A great solution, and a very happy customer. " – Marc (UK)
---
"The [socket upgrade] kit is perfect ! I've just successfully placed it into the Moog Prodigy and it works great. Kind regards from Belgium to all the members of the Kenton Team. " – Denis (Belgium)
---
"I love my Pro-DCB and can't tell you how much of an important role it plays in my synth and midi setup. It's one of the most well-thought out pieces of gear that I own, and it packs so much usefulness into a small and easy to use package!!" – Nathan W (UK)
---
"Just wanted to express how much I favor your service and products. both are top notch! Great quality cables- have had much bad luck with them from alternative suppliers. My recent purchase of your Modular Solo has brought me nothing but joy and greatly improved my eurorack- computer communications. Solid clock as well.!." – John W – (UK)
---
"Just want to say thank you! Great support!! I called you guys on Friday because I had a problem with the display of my Kenton PRO 2000 MKII. A technician called me back shortly afterwards and gave me the right hint. Now it's working again! Such a good support is not to be taken for granted. Thank you guys!!." – Tim (Germany)
---
"The Pro-Solo MkII is a superb piece of kit from the responsiveness of the buttons, size, shape and colour of box to the lag free operation and features like LFO with reset and sync. All of its features are essential and no essential features have been omitted when it comes to synchronising and modulating my Moog synths, control processor and analog effects pedals." – Stanford (UK)
---
"I recently bought a Moog Mother 32 and I don't have any 5 pin din keyboards that still work. Of course I can hook it up using a computer but I wanted just to explore the sounds with a Novation Launch Key 25……. Kenton MIDI USB host to the rescue. Works a treat, straight out of the box, arrived the next day. What more can I say?." – Richard (UK)
---
"Just to thank you guys for your service. The MIDI USB Host arrived as promised on Thursday. Very simple to connect up and (as expected) worked exactly as it says on the tin. Many thanks, please count me as a happy customer." – Gordon
---
"I am very impressed by both the products [LNDR] that have worked flawlessly and immediately. As a non MIDI specialist struggling with an interactive audio installation in an old telephone box, your stuff is worth every penny….and such speedy deliveries" – Chris(UK)
---
"I purchased one of these [MIDI USB Host] from a supplier in the UK via eBay. Yes it works perfectly as stated and in fact has no detectable latency which I have not been able to achieve with either a PC or mac, thank you. Just out of interest, it also works perfectly with a Korg Nanopad2." – Craig(Australia))
---
"I'd like to say that you guys at Kenton (you John) are offering the best service I've ever had. Didn't expect a reply before monday morning! That's really great!. Thank you." – David(Belgium)
---
"I've installed one [Kenton Retrofit for Korg PS3200] to 3200 a few years ago, I had no word other than "AMAZING"!" – Modeless Factory (FACEBOOK COMMENT)
---
"Just a very quick note to say thank you very much for your fast and very efficient service you provided in delivering my product. I will definitely recommend your company to my music friends. Thank you." – Robert (UK)
---
"Thank you for your prompt and complete response..
I have a couple of your Pro Solos (Mk1),.. I have used 4 or 5 different manufactured standalone MIDI/CV units- and simply stated- yours are the best. Ease of use. Features. Quality and reliability. Nothing is a close second. Nothing. Period. Thank you for taking the time to produce quality products that last and are a joy to use (and yes, you can quote me on that)." – Mike (USA)
---
"I bought a Prophet 5 3.3 Midi retrofit from you 1 year ago. Today I got the P5 back form the technician. Midi kit works very well. The manual is very clear. I'm deeply impressed with this kit. You are great master. Thank you very much for this design. It really increases musical expression and integration of Prophet 5 in modern studio." – Phillip, (Australia)
---
"Just a very quick note to say thank you very much for your fast and very efficient service you provided in delivering my product. I will definitely recommend your company to my music friends. Thank you." – Robert, (UK)
---
"I have 5 of your Pro-Solos, including three USB's and they all work absolutely flawlessly, We've spoken on the phone a couple of times and you were so incredibly helpful. Thanks so much for your brilliant inventions!" – Mike, (Switzerland)
---
"Just to let you know that the Thru-5 arrived safely. I've hooked it up and it works beautifully. Thanks for your prompt service." – Anthony, (South Africa)
---
"5/5 stars for your products and fantastic support!" – Johan, (Sweden)
---
"The package has already arrived, super fast. Some companies can not answer an email in that time.
Great service, thanks!" – Marino, (Belgium)
---
"thanks for your product. My client is very happy and shipping couldn't have been faster. Top service! Thanks and best regards," – David, (Switzerland)
---
"I just would like to thank you all very much indeed for the wonderful service: the product was delivered as fast and smooth as I would have never expected! Thank you again and all the best" – Orazio, (Italy)
---
"Let me just say this(…MidiStream) is one great product. I have had it now for years and has worked flawlessly.." – JR
---
"Thanks for your help John, changing the bridge solved the issue. I will mention Kenton's excellent support on my Synth DIY page." – H
---
"The package was received this morning, in good order. I am extremely impressed by your customer service and logistics: I wish all my suppliers were as good as you! I am also going to recommend PODS to a couple of companies in the UK that I've had problems with delivery, particularly when the 'last-mile' logistics have been the mainstream companies like UPS and TNT. PODS are also cheaper. Once again, thanks for a speedy despatch, in spite of the initial delay – these things happen. Our gig on Saturday, where we need to have the mixer station a long way from the stage, will be so much better!" – GH
---
"So I took the box home from Moog Audio here in Toronto. Been having a lot of fun quantizing quantizers and calibrating test equipment trying to get a semi tone to be a semi tone and an octave an octave. Was beginning to get discouraged and thought I may try something silly like giving up and so forth…. Anyhow, I have been eyeing your gear since the 90's (before I had money or any business eyeing anthing at all). Yeah! Wicked! Stable tuning and all my hopes and dreams are realized. Amazing piece of gear. Thanks for making me the perfect machine. PS: Its on my Doepfer rig. Very very nice 1v/oct. " – BK
---
……an excellent product: I never thought I'd hear my SW1000XG sounding so good, never mind the PLG150AN. – M.H. (about Plugstation)
---
"I want to commend you guys on such a fantastic quality product!!" – D
---
I just wanted to say thanks for being so efficient and for having excellent customer support, it really makes a difference." – TK
---
I got the Pro-KADI today. The thing works great. I can finally do those Wakeman solos on my Wasp!!! Thanks again.
Cheers, M
---
Thanks for processing my order so promptly.
In reply to your question, 'What made me turn to **** products when I was already a Kenton customer', the simple answer is one of cost. Basically, if all you're concerned about is controlling a control voltage synth the price of the **** compares favourably to the Pro Solo. Then, if you go to the **** web site and swallow half of the technical rubbish on it along with quotes like "Not one unit returned" (which, of course may be Mr **** bending the truth slightly), you're sold.
Also, the Pro2 had fooled me into thinking that all Midi to CV converters would be of a similar build quality and as easy to set up and use.
I think the general music technology using public are becoming aware of the vast difference in quality between Kenton units and other MIDI related products… I have been actively looking for a Pro2 on Ebay for the last 6 months and have not seen one, people simply don't want to get rid of them. In the same time I've seen a vast array of **** products change hands for pitiful sums of money.
I'll keep you informed of what happens regarding my promised refund from Mr **** if you're interested.
With thanks and regards, C L
---
Hello! Received the board in the post today….had it installed, up, & running in minutes thanks to the clear/concise instructions supplied. Thanks ever so much – excellent service!
Very best wishes, N
---
The package arrived as expected on Friday and within about half an hour of getting it home I had my three old analogue synths plugged into the back of the PRO-2000 and a MIDI master keyboard playing them all at once!
Thanks for this wonderful piece of equipment, R
---
Many many thanks for your very prompt reply and attachment re profile for REASON, will now attempt to get it to work As an end user of such equipment it is very good to see a company that provides this form of after sales service, keep up the good work and I will recommend your product and service to others, (merry mass)
Regards, H
---
Thanks great site, very useful to be able to download lost manuals, really saved my day :p – D
---
I would just like to say this is a very informative website, everything is easy to find and its simplicity is appreciated in this day and age.
Thank you, A satisfied customer
---
Received the PRO SOLO yesterday and had it set-up in about an hour.
You may use my comments as testimonial if you like – The PRO SOLO is one of those products that delivers on its promise. The midi timing is impeccable, it took no time to set-up, and it brought my pre-midi MiniMoog up from the basement and into my rig. Kudos.
'Preciate all your help and your fast response times.
Sincerely, HB, LA
---
Thanks for your kits, they arrived last week and I installed them the last days. They are working great and I think I will have much fun with them producing my tracks.
Thank you very much.
---
I bought the control freak about 2 years ago. And I can tell you that this piece of equipment has proved to be the best and the most versatile controlling equipment I have. It has not only the ergonomics, which is so important to me, but also the versatility one can only imagine to have.
I purchased the pedals two weeks ago, downloaded the editor (which apart from minor bugs is great to use) and today bought the update for the operating system. The control freak functionalities actually grow in time and I cannot express the utmost pleasure this brings to a user like me.
More than that, the staff is always helpful and knowledgeable.
Well-done Kenton and all the best! R.
---
Just a quick note to let you know that I'm very impressed with the performance of the Pro 2000 I received yesterday. I already have 2 of the original Pro-2'S, but the new model easily surpasses it. I tried it with my Minimoog, Arp 2600, Prodigy and modular and was impressed with the many extra functions it endowed the synths with. It was an absolute doddle to set up and the memories are a real boon for switching between configurations.
Consequently, I will probably buy another one in the next couple of months as I have a few more monosynths to link up.
Well done to the design team!
Best regards, I McA
---
Hello! Received the board in the post today….had it installed, up & running in minutes thanks to the clear/concise instructions supplied. Thanks ever so much – excellent service!
Very best wishes, N
---
Hey you guys…….. I just wanted to drop you a quick note to let you know I am absolutely thrilled with the Control Freak. It's just the unit I've been looking for. My only complaint is I wish it had even more faders and buttons. Hell I've even been considering purchasing another unit and trying to chain two of them for double the control.
Tell the guys at Kenton they did an awesome job!! Thanks 🙂
---
Recieved my new Freak yesterday. Just like to say many many thanks for sorting that out. So promptly as well… It's very rare to find such customer service in this day and age.
I will heartily reccomend you to all I meet. M
---
I'm having a wonderful time with control freak studio since the day i received… i have no problem of any kind working with reason and the recently bought sonar apps… i'm truly glad i have made the right choice choosing kenton… and especially to yur wonderful after sales support… 😉
Cheers R
---
"I'm happy as a pig in poop with the SD [Spin Doctor]" – DN
---
" I would pay a higher price for a piece of Kenton kit as the build quality is first rate and back service is second to none. Recent power supply failed (not made by Kenton but supplied with Spindoctor), replaced by Kenton under guarantee within 48 hours – who else can boast that sort of back up? – I will be buying KENTON again in the future as I have complete confidence in their service and after sales. " – TGP