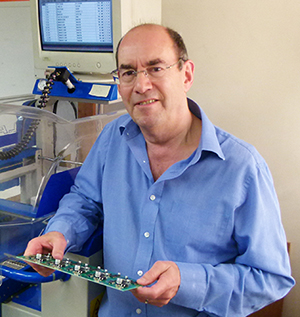 For more than 30 years, Kenton Electronics has designed and built ingenious, easy-to-use MIDI interfaces that enable keyboard players and electronic musicians to keep their synths, sequencers and controllers communicating with each other, regardless of their type or vintage. Widely acknowledged as the MIDI experts, Kenton has a device for almost every conceivable application, and our products are often considered to be the 'glue' that holds our customers' electronic music systems together. In addition, broadcasters and theatres rely on Kenton products in mission-critical applications where MIDI is used as a switching and control protocol.
Kenton Electronics was formed in 1986 by UK musician John Price. "I was a professional keyboard player with a background in electronics and a keen interest in computing. I owned an Oberheim OBX synth, which I very much wanted to get MIDIed. Unfortunately, the only interface on offer cost a fortune, and did very little, so I decided to do make my own. This was not quite the big step it might seem, as I had already built my own digital interface to enable me to play the OBX from the keyboard of my Hammond Organ.
The new MIDI interface was a success, and I soon had several of my keyboard-playing colleagues asking if I could do something similar for their keyboards, so I decided to build a small batch of 12 interfaces and things just progressed from there. From the moment I bought a fax machine, I started to get enquiries for kits from overseas. I was working from my flat in Kingston at that time, but I was rapidly running out of space. In 1990 I found premises in Hook Road Surbiton, an upstairs office with 4 rooms behind a parade of shops.
A singer friend of mine, Karen, offered to help me to prepare the place and make it a bit more welcoming, but as things turned out, Karen stayed on and worked part-time for Kenton for a couple of years.
Quite a few customers had asked if Kenton would make a MIDI to CV converter, and so around April 1992 the PRO-2 was born. I originally thought we might sell 100 – 200 units, but by the time it was replaced by the PRO-2000 in 1997, we had sold well over 2000 units.
People often ask where the name Kenton came from. My father Wylie Price was a bandleader in the 40s & 50s and was a big fan of Stan Kenton, so when I was born, I was given Kenton as my middle name."
Chronological history
| | |
| --- | --- |
| 1986 October | Formed Kenton Electronics |
| 1986 October | Produced first batch of printed circuit boards |
| 1989 July | Marillion gloves |
| 1990 June | Moved to business premises in Hook Road, Surbiton |
| 1992 May | Introduced PRO-2 |
| 1992 May | Introduced Socket upgrades to support PRO-2 |
| 1994 May | Introduced PRO-4 |
| 1994 Dec | Introduced GS-8 |
| 1994 July | Moved to larger premises at Tolworth Rise South |
| 1995 June | Introduced PRO-SOLO |
| 1996 May | Kenton's first website |
| 1996 October | Introduced PRO-DCB |
| 1996 October | Introduced PRO-KADI |
| 1997 March | Introduced PRO-2000 |
| 1998 July | Introduced Control Freak Original |
| 1999 March | Introduced Control Freak Studio |
| 1999 August | Moved to current premises in South Wimbledon |
| 2001 June | Introduced Plugstation |
| 2001 September | Introduced Control Freak Live |
| 2002 May | Introduced stretched version of Live |
| 2002 December | Introduced Spin Doctor |
| 2003 October | Introduced LD2 MIDI level display |
| 2003 December | Introduced UK/EU version of MidiStream wireless MIDI |
| 2004 April | Introduced US version of MidiStream wireless MID |
| 2004 July | TR-808 kit redesigned |
| 2004 October | Introduced AN16 module |
| 2005 January | Introduced Pro-DCB mk2 |
| 2005 March to 2006 December | MIDI kits redesigned |
| 2005 February | Introduced Pro-Solo mkII |
| 2005 March | Introduced Pro-2000 mkII |
| 2006 May | Introduced SW16 module |
| 2006 May | Introduced GPIM-16 GPI to MIDI unit |
| 2006 July | Introduced Pro-KADI mk2 |
| 2006 September | Introduced Thru-5 MIDI thru box |
| 2006 October | Introduced LD3 variable pedal to MIDI |
| 2006 December | Introduced Killamix Mini controller |
| 2007 February | Introduced Pro-DCB mk3 |
| 2007 July | Introduced LD4 variable pedal to MIDI |
| 2007 December | Introduced Merge-4 MIDI merge unit |
| 2009 May | Introduced LNDR MIDI line driver |
| 2009 June | Introduced USB-Solo CV converter |
| 2011 June | Introduced MIDI USB Host |
| 2011 July | Introduced Modular Solo |
| 2012 October | Introduced Sync-5 |
| 2014 May | Introduced GPMX-16 |
| 2015 March | Introduced Thru-25 |
| 2016 June | Introduced D-Sync |
| 2017 March | Introduced Merge-8 |
| 2017 July | Introduced Pro-CV to MIDI |
| 2018 July | Introduced Thru-12 |
| 2018 November | Introduced Pro-Solo mk3 |