Pro-One
£230.00 to £355.00 ex VAT
£276.00 to £426.00 inc VAT
Description
PLEASE NOTE: Fitting a retrofit kit is a skilled job which should be undertaken only by a competent synth service engineer or fitted by us at our premises in Epsom, just outside London.
Note also that retrofit kits are always built to order after your payment has been processed. It then takes us up to 10 working days to build and test the kit before we can despatch it.
---
Retrofit Kit
Note that the above picture shows a typical kit. The actual kit supplied may differ slightly depending on the model it is to be fitted in.
This retrofit kit for the Sequential Pro-One adds the following MIDI control:
For incoming MIDI:
Any MIDI channel can be selected
Notes (MIDI note numbers 36 – 96) – transpose possible
Pitchbend
Mod Wheel
Filter cutoff frequency (of low pass filter)
Sustain
By default:
pitchbend is controlled by pitchbend messages
mod wheel is controlled by Mod Wheel (CC#1) and also by Aftertouch messages
filter cutoff is controlled by CC#16
Sustain is controlled by Sustain (CC#64)
However, any controller or aftertouch or velocity can be mapped to control other things so for example velocity could be mapped to control filter cutoff
Hardware:
MIDI In, & Thru sockets
Push button (for programming the MIDI setup)
Setups are stored in non-volatile memory (Eeprom)
The kit comprises the following items:
MIDI Circuit board
Small pack – contains DIN sockets and mounting hardware
Large pack – contains ready-made cable assemblies
User instructions – How to change from default settings and general instructions
Fitting instructions – step by step fitting guide plus diagrams of where to connect what
All kits are fully checked and tested before despatch
Note: Our retrofit kits are not intended for installation by the end user. They should always be fitted by an experienced synth service engineer.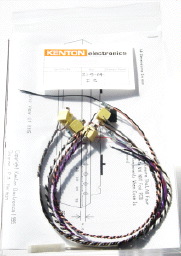 Kit to add cv / gate / trig / filter sockets to the Arp Odyssey mk1 (white face)
These sockets are to enable the synth to be controlled using one of our MIDI to CV converters, such as the Pro-Solo mkII, USB-Solo or Pro-2000 mkII (Pro-2000 is recommended for this model as the Solo has only 3 outputs)
Inputs (3.5mm mono jack sockets):
CV provides Volt / Octave control over the oscillator frequency
Gate controls when to play the note
Trig – triggers the ADSR envelope (Kenton converters have a special mode for this)
Filter – controls the cutoff frequency of the low pass filter
The kit contains all necessary components and diagrams for connecting the wires / components, and mounting the four 3.5mm mono jack sockets.
---
More Info
More Links
How to connect using our MIDI to CV Converters
---
Associated products
---
Manuals